Description
P-Gear P600 GPS lap timer and chronometer with social media ranking with 10 Hz - Europe Edition
The P-Gear P600 is perfect for your performance measurements. Whether acceleration measurements (e.g. 0-100km/h, 100-200km/h) or your rides on a race track. With a solution of 10 measurements per second, the P600 Laptimer records all transversal and longitudinal accelerations as well as the current speed, position and geographical altitude. Also, in conjunction with your smartphone, your rides can be displayed and displayed live and likewise recorded as a video with embedded measured data (longitudinal and lateral acceleration, position, speed, driving / lap time).
The P600 has build in a GPS receiver and an acceleration sensor, allowing you to take all the measurements you need on a race track or quarter mile. All measurements are displayed live via the app on your smartphone. Likewise, the complete settings you will make via your smartphone. The connection from your smartphone with the P-Gear P600 is via Bluetooth.
Features
Circuit mode (well known race tracks, e.g. Nürburgring Nordschleife, Hockenheimring, etc. are already integrated)
Drag race mode (1/8 mile, 1/4 mile, 0-100km/h, 100-200km/h, free definition
Brake mode (z.B. brake tests 100-0 km/h, etc.)
Social Media Ranking with your own account
Sensors: Speed, Transverse and longitudinal acceleration, height, position, time
measurement accuracy: 10 measurements per second (10 Hz)
Video recording with your smartphone
Incl. windshield mounting kit
Easy charging with the supplied USB cable
Which tracks are momently include with the P-Gear?
The following tracks are include:
Germany:
Nordschleife (Bridge to Gantry)
Hockenheimring
Race Park Meppen
Sachenring
Motorsport Arena Oschersleben
EuroSpeedway Lausitz
Norisring
Bilster Berg Drive Resort
JP Teststrecke
Ausland:
Redbull Ring (AT)
Salzburgring (AT)
Autodromo Riccardi Paketti (IT)
Mugello Circuit (IT)
Missano World Circuit (IT)
Autodromo Di Modena (IT)
Autodromo Enzo e Dino Ferrari (IT)
Ascari Circuit (ESP)
Circuit Catalunya (ESP)
... and many more
New tracks are constantly being added!
Compare yourself to others!
In order for you to compete with your friends, all results can be uploaded via the app to a worldwide, local or vehicle-specific ranking.
The published results can be accessed via the app or via the manufacturer page (
http://www.pocketgear360.com/h5/wxrankinglist/index_en.html
.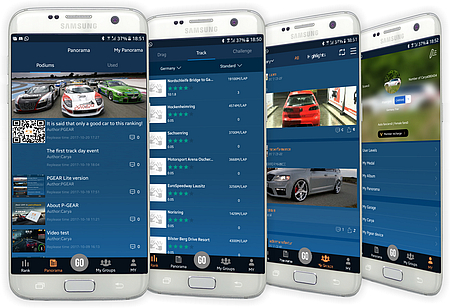 Technical specifications
Satellite Support: GPS, GLONASS, Beidou Samsung
Size: 72 x 72 x 15 mm
Battery life: 8 hours
Charging time: 1,5 hours
Power supply: USB, 5.0V DC
Maximum power consumption: 200 mW
Working current: 50 mA
Smartphone support: IOS 8.0, Android 5.0
Bluetooth v4.0 support
Smartphone App
The free P-Gear app is available for Apple and Android smartphones and can be downloaded here:
There is also a light version ("P-Gear Light") from the P-Gear App, which has the same functions except the social media ranking function and can be used without registration.
The RaceChrono app for Android and Apple (
https://racechrono.com
) also supports the P-Gear P600 and uses it as a GPS receiver.
Package Contents
P-Gear P600 Laptimer
Bracket for windshield
USB charging cable
Quick start Guide
And here are some videos
You can find more videos in Youtube with searching after "P-Gear" or "P-Gear P600".
| | |
| --- | --- |
| Manufacturer: | |
| Category: | |
P-Gear
Shenzhen car art interactive technology co., Ltd. Is a high-tech enterprise focusing on mobile Internet applications and GPS devices.

Under the brand P-Gear , Shenzhen is developing the Laptimer P600, which is already known shortly after the launch.