Oil cooler & oil cooler mounting kits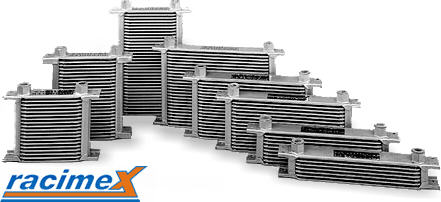 Racimex Oil Cooler & mounting kits
Racimex Oil Cooler are made in aluminum and have a layer structure. With the internal vortex plates they ensure a optimum heat dissipation. Oil cooler of this type are standard for tuned engines up to Formula 1
Depending on the size and placement, you will reach a reduction from 20 °C to 30 °C. Each oil cooler is tested by the factory with 15 bar. The burst pressure is more than 20 bar.
The oil cooler have a port of M18 x 1.5. Using double sockets, the threaded port can be reduced or enlarged.
When you have question about e.g. a fitting oil cooler for your car, please write us via our
contact form
or via
eMail
. We pleased to help you.
Page 1 of 1
Items 1 - 1 of 1
---