Description
Sticker Sicherheitshinweis - MaxRPM special special version
Actually on a whim, we had designed and produced a similar sticker about 10 years ago at the time of our G-Laderseite.de (
www.G-Laderseite.de
). The small series edition of the sticker was very popular and is now back on stage :-)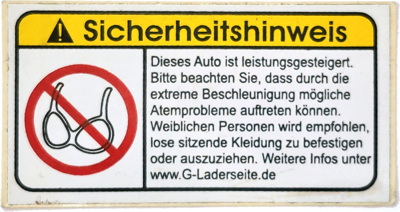 - This was the first version of our security sticker! -
We have now reissued the sticker as a remake. He is of course not meant seriously, but always makes everybody smile :-)
The sticker has the dimensions 80 x 40mm. The edge is transparent and the inner background is white. The sticker is laminated and can therefore be used outside and inside.
MaxRPM
Under our own brand MaxRPM we produce high quality custom products for tuning & racing.

The company MaxRPM was founded in 2001 by Thorsten Schlagwein. Initially specializing in the pure sale of parts around the G-Supercharger ("G-Lader") MaxRPM expanded fast to a international level. Today MaxRPM sells worldwide to many thousands of clients tuning and racing products with the core areas turbocharger, engine tuning, chassis tuning & G-Lader.