Description
TrueCam A7s - Professional camera for true connoisseurs.
The latest model is an improvement on the existing TrueCam A5 camera. The basic kit includes a GPS module with speed camera detection and an option to have great voice guidance on your ride. The video resolution has been improved up to 2560x1080 (21:9) and 2304x1296 (16:9) at a rate of 30fps. Due to the high quality of the recording it is able to recognise faces or identify license plates even easier. The camera handles itself superbly no matter the situation.
TrueCam A7s
Professional camera for true connoisseurs!
No matter whether it is at night, in poor visibility when driving towards bright lights or under other difficult circumstances the footage will still be captured at the highest quality and with maximum sharpness. Easy installation and operation of the mount, including a power supply. To install the camera easily every day, you simply "snap" and go.
Incl. Kingston Canvas Go! microSD memory card!
You decide on a bundle consisting of the TrueCam A7s and a Kingstom Canvas Go! microSD memory card - a perfect choice! The memory card is required for the operation of the TrueCam A7s.
The Kingston Canvas Go! is designed for use "on the go". The microSD card is ideal for capturing HD and even 4K videos on action cameras, drones, and dashcams. It is characterized by high speeds according to class 10 UHS-I U3 with up to 90 MB/s read and 45 MB/s write.
SHOOT IN FULL HD 1296P
The camera shoots at a high resolution of 2304x1296 (16:9) or up to superwide resolution of 2560x1080 (21:9). The camera captures high-quality images even in adverse conditions. Whether it is bright, gloomy, dark or night-time, your shots will always be perfectly sharp and clear. Thanks to this, it recognises even the tiniest of details, such as the human face or vehicle license plates.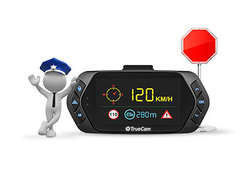 SPEEDOMETER FUNCTION
A new function of the TrueCam A7s camera is the SPEEDOMETER function. With it you can monitor your current speed and direction (shown as a compass) directly on the display. As well as displaying the compass and current speed, the camera will also alert you to upcoming speed cameras. The display shows the speed limit while approaching the speed camera, its distance and will alert you when speeding. The SPEEDOMETER function can be set as a screensaver so that the display does not distract, for example, when driving at night.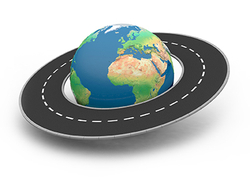 GPS MODULE
The TrueCam A7s is equipped with a GPS module which provides many features, giving you even more details about your driving. Thanks to the GPS it is possible to map the route and speed. Under the camera settings you can choose whether to display the speed within the video or in the software application where you can view the acquired data and route on Google Maps.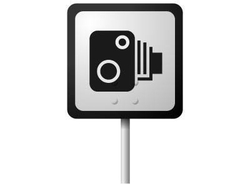 SPEED CAMERA DETECTION
The TrueCam A7s camera can alert the driver to fixed speed cameras, average speed cameras, red light cameras and other places where it is good to exercise caution. Our database contains more than 33,000 locations in 36 European countries and Russia. Using voice guidance, the driver is warned of dangers or against speeding. The database is extremely accurate and offers free updates.
QUICK EVERYDAY INSTALLATION
Quick and easy handling and preparation for the journey ahead is a must for a camera that is used every day. The installation of the TrueCam A7s takes a matter of seconds. The camera holder is permanently mounted in the car, including the power connection, and the camera can just be snapped into the holder and you are ready to go.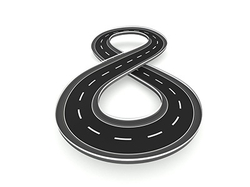 LOOP RECORDING
The loop recording function of the TrueCam A7s car camera allows you to continuously record. Once the memory is full, the camera will automatically record over the oldest files and replace them with new ones. There is no need to interrupt the recording or manually capture the new material, everything is automated. If you have any important recordings or photos that you want to keep, you can easily lock them and protect them from being deleted. You can lock the video whilst recording.
G-SENSOR
The G-sensor records the direction of your journey in three-dimensional space. This data can be analysed and displayed using the application software. This sensor also enables the dash cam to detect when an incident takes place and lock it to prevent it from deletion whilst loop recording. It can be seen on the chart later exactly from which direction the impact occurred.
VIDEO LOCK
To avoid erasing important material due to overwriting during loop recording, these recordings can be locked. This can be done using a special key whilst recording or viewing a recording. This material is then archived and protected against deletion. If you later decide that you would like it removed, just unlock the recording and it can be deleted in the normal way.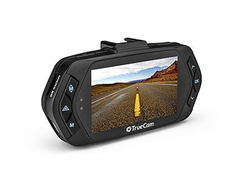 LCD DISPLAY WITH ENGLISH MENU
A clear 2.7" LCD display makes it easy to control the TrueCam A7s. It does not matter whether you are shooting a video or just browsing through the recordings, the screen with provide you with a complete overview. The camera menu is completely in the English language and has a simple, intuitive interface.
MOTION DETECTION
The TrueCam dashboard camera guards your car in your absence. Thanks to motion detection, the camera starts recording any time motion is detected. If someone crashes into you or damages your car, you have everything on record at the highest quality. This clear evidence can then be passed onto the police, including the license plate or the face of the offender.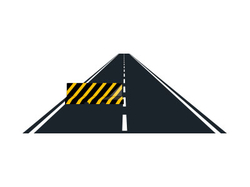 LDWS FUNCTION
The TrueCam A7s includes safety systems designed to minimise traffic accidents. This makes travelling safer for drivers as well as for other road users. LDWS (Lane Departure Warning System) is a mechanism for warning the driver when the vehicle begins to move out of its lane. On top of this HMW (Headway Monitoring and Warning) warns the driver when not keeping a safe distance from the vehicle in front. At the lights the system even alerts you when the car in front pulls away. This feature is ideal for long distances when drivers often lose focus. Everything is set up so that the system aids you without being intrusive.
Note: This function is currently in the development stage (beta) and it is necessary to download the latest firmware version marked with the letter ?L?.
INTERCHANGEABLE POLARIZING AND UV FILTERS (OPTIONAL)
Along with the TrueCam A7s car camera, it is possible to buy special replaceable filters, namely a CLP polarizing filter and a UV filter. These filters protect your lens and provide an even higher image quality. The polarizing CPL filter ensures the removal of any unpleasant reflections, glare and obtrusive elements from the windscreen of the car. The UV filter provides greater vibrancy and saturation, making the whole image look natural. These filters are not included in the basic package!
NIGHT MODE
Shooting in low light conditions, e.g. at twilight or at night, are no problem for the TrueCam car cameras. The excellent high-intensity optics are adjusted to ensure clear, high-quality images even at night. The TrueCam models A4 and A5 make good night shots with the TrueCam A7s being in a class of their own and coping well with poor visibility in the FULL HD range.
HDR FUNCTION
The HDR (high dynamic range) function ensures that your camera copes with difficult contrast shots. Typical examples of such are the contrast between light and shadows or between the road at night and the lights of oncoming traffic. HDR ensures a quality picture even under these circumstances.
Camera overview
Recording up to FULL HD 1296p resolution
GPS with speed and position recording option
Loop recording function
G-SENSOR for automatic determination the strength and direction of impact
Option for locking of favourite videos/photos during record
Integration with Google Maps
Interchangeable polarizing and UV filters
Night mode
HDR function for better shooting in high contrast ratio
Complete english menu and control with language switching option
LCD display for better immediate control of recordings
2 types of glass holders - removable suction cup and permanent adhesive 3M mount
Motion detection - practical helpmate for guarding your car
Backlit keys
Automatic update of time by GPS
Buttons for snapshot, switching on/off display and sound
Simple operation - clear and intuitive menu, easy control
Brightness control for adjustment to actual light condition
Welcome mode with human voice
Speed camera detection
Package contents
TrueCam A7s camera
GPS module with speed camera detection
3M adhesive mount
Suction cup mount
A7s holder (usable with 3M adhesive mount and suction cup mount)
USB cable
HDMI cable
Car charger
Sotware application
Protective packaging
| | |
| --- | --- |
| Manufacturer: | |
| Category: | |
TrueCam
TrueCam is a rapidly growing brand that was founded in 2013 from the Czech company elem6.

TrueCam prides itself on quality products which are simple and convenient to operate and ensure driver safety. Her focus on customer needs and implementing the latest technology means that TrueCam cameras have rapidly found their place on the market and have become very popular and sought after among drivers. Our main goal is to make you feel safer on the roads.