Shipping costs
The estimated shipping costs can only be used if the basket is not empty.

Within Germany and some European countries, we are shipping with DPD. In the remaining countries, we send with DHL. The shipping is with a tracking number, so you always know where your parcel is currently located.
With the following chart, you can easily determine the shipping costs. When do you have any questions about shipping, you are wellcome to write (contact) us.
Free shipping within Germany from 100,- EUR!
We calculate the shipping costs to foreign countries by shipping weight.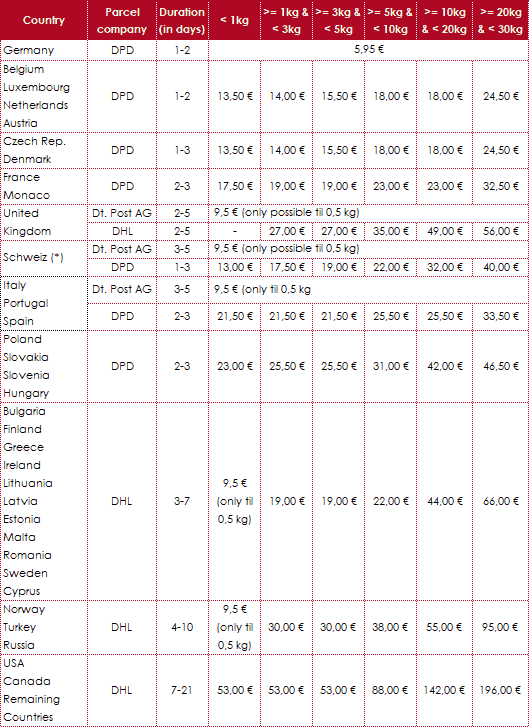 Common infos
(*) Shipments (not 3kg!) will be shiped with the german Post AG.
(*) Shipments >= 0,5 kg we send via DPD. In this case, there will occur a handling fee by the customs about 20, - EUR, which will charged to you directly from DPD.
For shipping weights greater 30kg a new package will be packed. In this case, the shipping costs are in proportion to the number of packets. All prices incl. German VAT (19%).
All shipments to Switzerland and in other countries outside the EU, we send free of charge by the German VAT. After your registration in our Onlineshop, the shop will calculate automatically without the German VAT. The import of the parts into your country may apply customs tax.
Here are our customers living
Since 2001 we sent our products in over 85 countries to more than 8.500 customers (state: October 2016):
Please click on the following world map to view it in a enlarge version. It shows the countries in which we have already sent parts: