Description
Racelogic PerformanceBox Touch Laptimer and Trackday tool with 25 Hz (New Model 2022)
The PerformanceBox Touch with 25 Hz GPS-GLONASS is the ultimate dash logger for tuning, trackdays, automotive testing and performance data recording. It is the successor of the well-known PerformanceBox and also the successor from the PerformanceBox Touch with 10 Hz.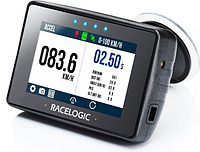 State-of-the-art and high-quality GPS data recording for
driving performance measurement in tuning, lap timing and data analysis at track day racing
. Ideal for the
exchange of performance data
and
exact data analysis of your tuning
.
The PerformanceBox Touch sets new standards in consumer GPS data recording.
Quick to mount, highly accurate and valid data measurements
.
"
Performance measurements have never been so easy and - above all - so precise!
Keyfacts in compare to the old PerformanceBox:
Touchscreen
Slope correction
Highend-Laptiming
More precise measurement technology
What you will get:
PerformanceBox Touch
USB 2.0 A on 90° Micro B charging cable 1.5 m
Cigarette lighter USB adapter
8 GB SDHC memory card
Windscreen suction cup holder with ball head
Analysis software CircuitTools
Analysis software VBOX Testsuite
"
The successor of the well-known and widely used PerformanceBox will inspire you!
Technical data:
4,3" Tageslicht-Touchscreen-Monitor
25 Hz GPS-GLONASS Engine on industrial measuring technology
High data validity
Excellent quality when recording speed, distance, G-forces and times
Professional laptop timing including predictive laptop timing (Live Delta-T for the best rounds)
Freely configurable mileage measurement
1 Foot-Rollout enableable
dbscanner Height gradient correction can be activated
Data recording on SD card
Analysis software CircuitTools
Analysis software VBOX TestSuite
Internal GPS antenna, external antenna can be used
Screenshot function
Fast installation & start up
Accuracy speed measurement on 0,1 km/h (0,062 miles/h)
Accuracy time measurement on 0,01 s
Optionally equipped with an internal battery for an additional charge
Optional with measurement calibration
Highlight: dbscanner Slope correction
The PerformanceBox Touch can correct the measurement results during acceleration tests. Comparable tests on different routes with different height profiles are now possible.
The PerformanceBox Touch has integrated the calculation of the well-known dbscanner software as an optional function
. The &qout;dbscanner&qout; only needs to be activated in the setup and shows the &qout;DBSC&qout; logo next to the acceleration time. The data recording itself is not corrected. The raw data file is always available for analysis in the software.
The screenshot function can be used to write a screenshot of the e.g. dbscanner test results from a test drive as a JPEG to the SD card at any time.
This you can e.g. uploaded to social media (Instagram, Facebook, etc.).
Tip:
A external GPS-GLONASS antenna must be used in cars with a metal-coated windscreen. Even vehicles with UV protection have poor GPS reception inside the car. The external antenna is also required here in part. This is typical of all Mercedes AMG, Audi RS and BMW M models.
| | |
| --- | --- |
| Manufacturer: | |
| Category: | |
Racelogic
Racelogic Ltd is an automotive technology company based in Buckingham, United Kingdom.

The company develops a range of GPS, CAN bus, Inertial navigation system and video recording equipment. Racelogic also design applications for use in vehicle testing, motorsports, marine, defense, aviation, and GNSS device testing.